Jason Hammond
Thursday, July 18, 2013 8:25 AM

Going for the sole purpose of riding one coaster greatly increases one's chance at disappointment.
---
Timber-Rider
Friday, July 19, 2013 7:23 PM

Actually Jason, I am also going for Wind Seeker and Shoot the Rapids. Which are two of the other rides I have not been on. I would also like to see what Soak City and Challenge park are like, as I have not been to those either. So, Gate keeper is not my only reason for going.
I mean come on, how many enthusiasts do you know who do not go to a park to ride a new coaster, when they have been on everything else at that park 100 times? And, who has not been disappointed?
My worst experience with this was with De Ja Vu at Six Flags Great America, went to the park at least 3 times, and every time I went it was closed, then they removed it all together. I never did get a chance to ride it. The next would be Top Thrill dragster, were I went many times, and it was closed, but have least been able to ride it once.
I also might check out the Dino Bore attraction. But only if it's free. Someone said you could get in with your platinum pass, but did not see anything on the website, where they say it is included.
Anyways, going Thursday. And will be in the area for 4 days. Might go each day, or cut my trip down to 2 days, and maybe a few hours in the morning on Friday for ERT, then spend some time at Soak City. But, I'm basically going to wing it, and see what happens.
Supposed to be great weather! None of this 95 degree crap.
Last edited by Timber-Rider,
Friday, July 19, 2013 7:24 PM
---
I didn't do it! I swear!!
sws
Friday, July 19, 2013 7:40 PM

Yeah, because the last place you'd want to be in 95 degree temps would be at a water park.
Raven-Phile
Friday, July 19, 2013 9:57 PM
Well you can cross Shoot the Rapids off of your ride list. You won't be doing that any time soon.
http://www.sanduskyregister.com/article/4308286
---
R.I.P LeRoi Moore 9/7/61 - 8/19/2008
Jeph
Friday, July 19, 2013 10:02 PM
Cross Dinosaurs Alive off your list as well. It's NOT included with your Platinum Pass. It's a $5 up-charge.
WOW, that was one of the most unexpected links I've clicked in some time.
Timber-Rider
Sunday, July 21, 2013 9:38 PM

Wow. Ravine-Phile. That article pretty much sums up the accident. This wasn't just a simple roll back. This is the first time I have read about the boat being flipped in the water. I'm wondering about the layout of the ride before the lift. Is there a turn into the lift hill?
My guess is, if there is a turn into the lift hill, the speed of the boat coming back down the lift hill, and hitting a turn, at high speed, would certainly cause the boat to flip on it's side. Just as any boat trying to take a turn too fast cold be caused to flip over.
In any case shouldn't a ride like this have an anti-rollback device installed on it's wheels? If it did, the boat would have just stopped on the lift, instead of rolling back down into the chute.
Pretty scary. I'll bet the ride will be closed the rest of summer.
---
I didn't do it! I swear!!
Raven-Phile
Sunday, July 21, 2013 9:42 PM
That's just it. The ride does have a to rollbacks in place. I don't know how both those, and the chain failed to hold the boat, to be honest.
---
R.I.P LeRoi Moore 9/7/61 - 8/19/2008
LostKause
Sunday, July 21, 2013 11:50 PM
Here is a photo that I made to help answer Timber-Riders questions.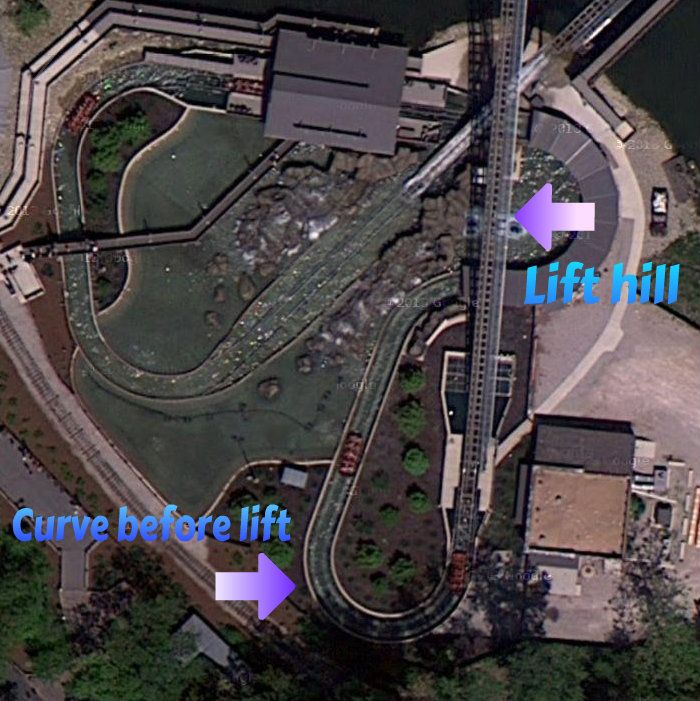 ---
HamptonRoadsRider
Thursday, July 25, 2013 1:30 PM
I was on it twice last week. We really enjoyed it - my fiance especially did. No problems, short line, smooth, great view. Not exactly thrilling but a good change up from coasters
Tyler Boes
Thursday, July 25, 2013 2:38 PM
Any ride that makes me wet and cold is thrilling and scary.
Raven-Phile
Thursday, July 25, 2013 2:53 PM
That's what... she..said?
---
R.I.P LeRoi Moore 9/7/61 - 8/19/2008