Dollywood announces Barnstormer for 2011
Posted | Contributed by Jeff
High-flying high jinks take to the sky at Dollywood for the 2011 season with the new Barnstormer ride, a $5.5 million family thrill ride situated in a barnyard-themed area which also includes play areas for younger guests.
Taking its name from the daring aerialists and stunt pilots of the 1920s, the Barnstormer features two pendulum arms with seating for 32 riders. Seated back to back, riders travel progressively higher on each swing of the Barnstormer's massive arms, reaching a maximum speed of 45 miles per hour and 230 degrees of rotation. At its peak, the Barnstormer reaches a staggering 81 feet in the air, taking riders high above the barn's rooftop and the area's treetops. Situated in the lush foothills of the Great Smoky Mountains, the Barnstormer rests amid a traditional red barn on the Owens Farm, a nod to Parton's family's rural upbringing.
Read the entire press release on Business Wire.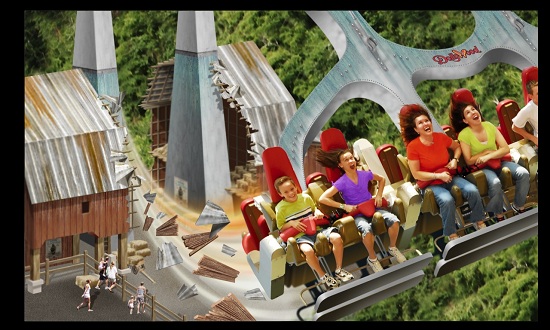 Related parks