Posted | Contributed by Jeff
[Ed. note: The following is an unedited press release from Premier Rides. -J]
Premier Rides' newest multi-million dollar installation, the Sky Rocket at Kennywood Park, was successfully topped off by ironworkers this week. The final 70 foot track section weighing over 8 tons was carefully installed ten stories up in the air at the highest point of the ride.
Jim Seay, President of Premier Rides commented, "We are extremely proud to reach this milestone and extra proud that we are providing an attraction that has generated hundreds of manufacturing and ironworker jobs right here in the United States."
Sky Rocket's magnetic launch technology makes this coaster one of Kennywood's most exciting attractions in the park. Kennywood's new launch coaster will feature many exciting and unique elements including three inversions and a 0-80km/hr (50mph) launch in two seconds. After the high-speed launch, riders will experience a vertical ascent to 95 feet before a brief cliffhanger pause at the top and a 90-degree drop into a maximum G-force pullout. The riders will then enjoy extended airtime as the train races into an inverted top hat element, passes into a barrel roll, and goes vertical again through a twist up leading to another pause. Riders experience a second vertical free fall followed by another maximum G-force pullout on the way into a highly banked fan curve. After a twisted corkscrew, a curve to a zero gravity hill, and a series of wave turns, riders finally return to the station.
See also: Sky Rocket at Kennywood in the CoasterBuzz database.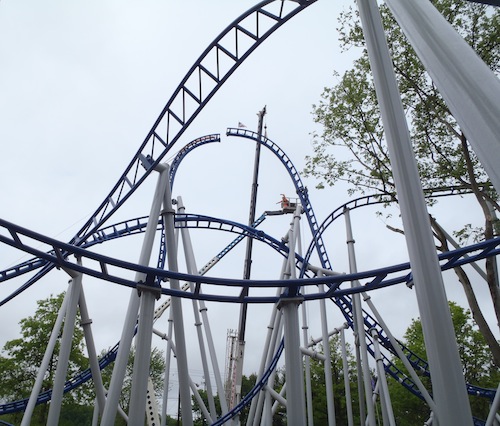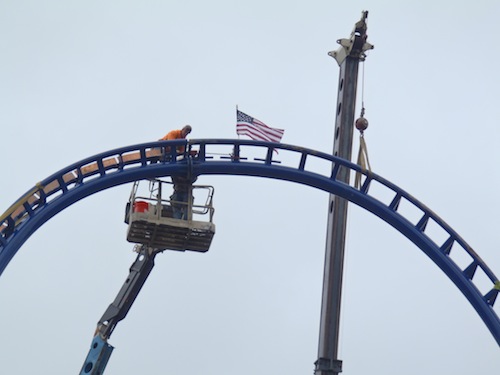 Related parks