When DelGrosso's Park in Tipton, PA, originally built their water park in 1997, it was reported that they intended to add more attractions to the waterpark at a later time. A drive by the park now will show that the mini golf and go karts have been removed, and that leaves plenty of room for more water attractions.
Screamscape has reported that there are plans on the Aquatic Group's website showing plans for the expansion. While the park has not announced anything yet, it fits and makes sense that this is what is taking place. It shows a lazy river, wave pool, some new eateries and food stands, a new children's area, and a few slides saved for future additions. The new additions are heavily themed.
I could have waited until an announcement before posting this topic, but with the park just about a half an hours drive from my home, I am pretty excited. The water park is pretty small, but clean, modern and fun. With these new additions, I could spend all day there.
It seems that the designer's website took down a few of the photos of the park's layout, but they were somehow still available on Google Images. I saved them and will display them below.
Looking at the layout plans, it appears that the new walkway to the walking bridge reuses the overpass from the go kart track. The new entrance also includes new changing rooms, so I wonder what will become of the old changing rooms that are between the existing children's area and slide towers?
And the biggest question on my mind? How long will it take to build and open? My guess is that because it hasn't been announced yet, and with the calendar and prices already on their website for this year, it will open in 2016. I could be wrong though.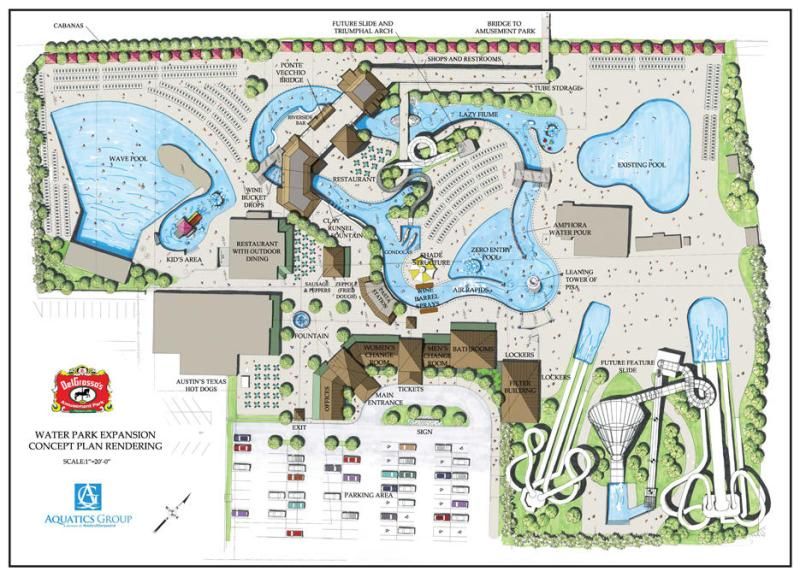 -Travis
www.youtube.com/TSVisits
"CoasterBuzz - It feels like home" :)