At opening summerseason 2019 a new hotel will open at Europapark. This time not so close to the Park, or is it?
This hotel will be called "Krønasår" and will be themed liked a museum to honor the swedish discoveror , Ander Svensson. He found a skeleton of a " seamonster" in Iceland and it was put into a museum, in the foyer of the hotel a replica of that skeleton will be placed.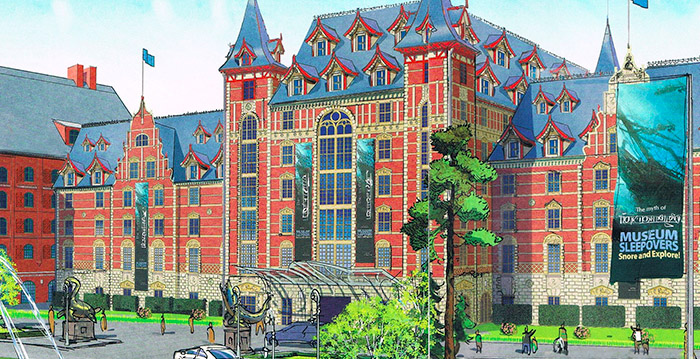 Frontview of the hotel.. to anyone been in Amsterdam, doesn't that look familiar?
Since the hotel is build offside of the Theme Park, in the first years they will use small buses to bring guest to and from the hotel. And perhaps later build an expansion of the monorailsystem.
Why is it build way from the Theme Park then? Ah... because it connects to a Water Park ! To open end of 2019. The waterpark will contain 8 themed areas, both indoor and outdoor pools and the indoorpart (much bigger then outdoorpart) will be open every day of the year.
Sofar little is known what will come in the Theme Park in 2018 ( besides the retrack/rebuild of Eurosat ) , but most likely some expansions are to expected, with the opening of Arthur it was said that 5 further rollercoasters are planned. In 2016 they got the kiddy-coaster.. so 4 more in the upcoming years?