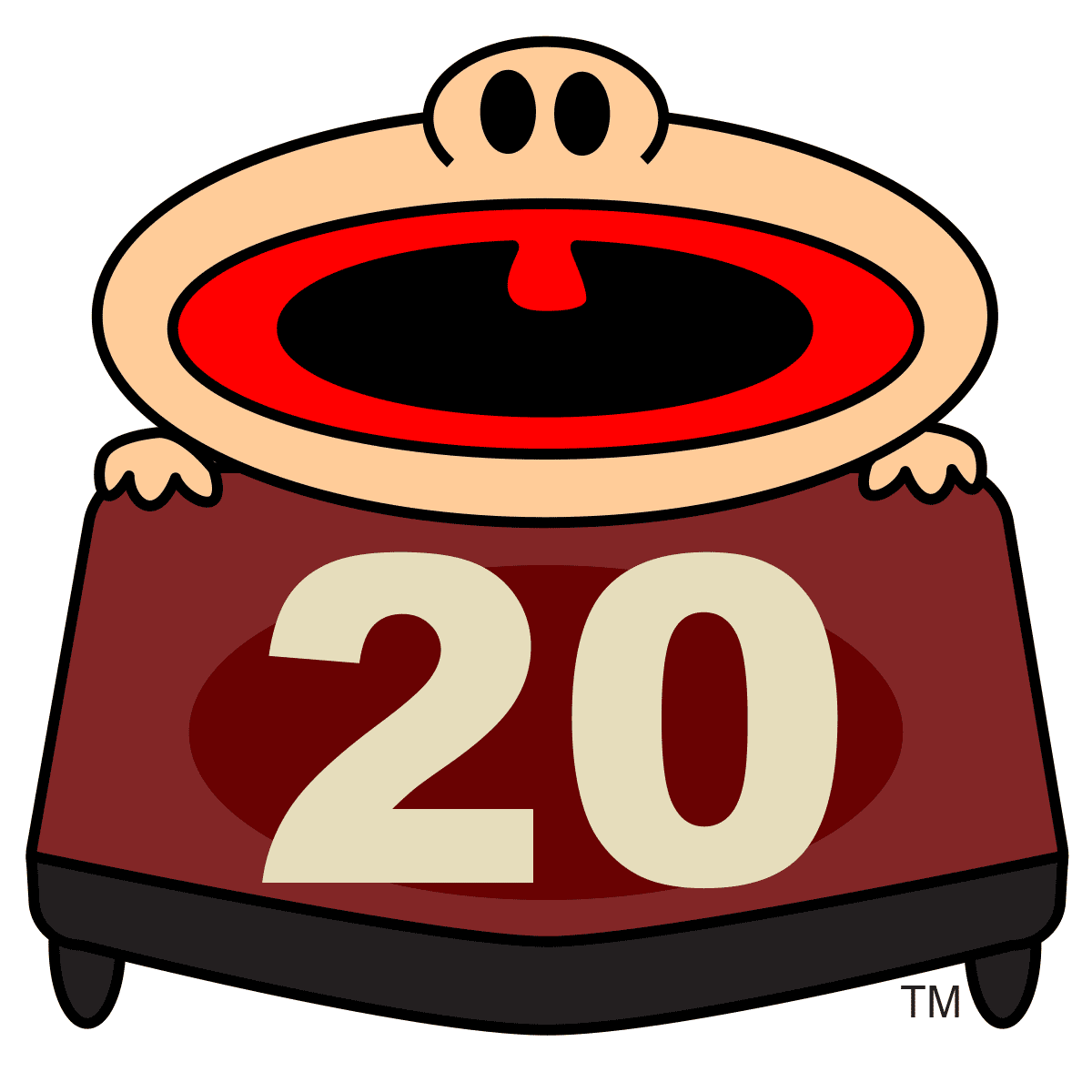 CoasterBuzz 20 - Chapter 4: A tale of two CEO's
When Cedar Point started to play a bigger part in my social life, and in the realm of my little online community habit, it was clear early on that Dick Kinzel was the stuff of legends. The legend was that he worked as a line manager in foods in 1972 and worked his way up to an appointment as general manager for Valleyfair soon after the acquisition by Cedar Point. He would eventually serve as CEO of Cedar Fair for an astonishing 25 years.
To be sure, his story is essential to Cedar Fair, as he was a part of it for most of the company's history. I met him for the first time in the 1999 season, at the then annual Firelands Red Cross mini-golf fundraiser. John Hildebrandt, who was running marketing at Cedar Point at the time, introduced me. John mentioned that I ran Guide to The Point, which didn't mean anything to Dick, and I was OK with that. In the shadow of the 200-foot Magnum that afternoon, it felt like he himself built it. By the time the park announced the 300-foot Millennium Force that summer, Kinzel seemed like nothing short of a coaster enthusiast's ultimate hero.
Regrets and ROI
The next year, as part of an effort to cover the big IAAPA trade show (the International Association of Amusement Parks and Attractions), I lined up some interviews, and was fortunate enough to get one with Kinzel via telephone, working through Cedar Point's PR folks. My focus in the interview was generally one of industry fundamentals, and not a bunch of questions about roller coasters. The substance of that interview kept coming back to return on investment as the driving reason behind every decision. I didn't get any solid answers out of him about how he arrived at ROI projections, because I didn't think to ask. That would be important in the coming years.
I encountered Dick on a fairly regular basis in the next few years, and he was always very kind, but he didn't make any connection between me and the sites, even though I knew they were a source of concern internally occasionally. The industry was still not used to having a conversation they couldn't control.
Just before the start of the 2004 season, Cedar Fair purchased the Geauga Lake property from Six Flags. The massive, 700-acre property surrounding a lake in Aurora and Bainbridge Township in Ohio, endured a lot of change after decades of relative stability. Years earlier, the park was actually two parks, Funtime owned Geauga Lake and Anheuser-Busch owned SeaWorld of Ohio. The former was a small park that ran a serious company picnic business with a nice collection of rides, and in some ways pioneered the wave pool and water park, while the latter was something of a slightly smaller precursor to its Orlando counterpart.
There were a lot of ownership changes in a relatively short period of time. Premier Parks bought Geauga Lake from Funtime in 1995, then the Six Flags chain in 1998, and Geauga Lake was renamed Six Flags Ohio in 2000. In a puzzling move, the marketing push invited comparisons to Cedar Point, which was still a much bigger park despite the smaller park adding three new, excellent roller coasters. Busch began shopping SeaWorld around in 2000 or earlier, which was restricted by an agreement with Geauga Lake preventing them from building any rides. Rides were a huge part of Busch's strategy in Orlando, San Diego and San Antonio. At the start of 2001, Premier Parks, renamed as Six Flags, announced the purchase of the Cleveland area SeaWorld, with some, but not all of the animals, as Busch moved many to their other parks. Between Six Flags Discovery Kingdom in California, and Six Flags Great Adventure in New Jersey, it wasn't unheard of for them to operate a zoological park. The new Six Flags Worlds of Adventure became a massive park with a single admission.
The massive investment didn't pan out for Six Flags. Some of it was simple math: Combining two parks and charging for only one wouldn't be sustainable. The zoological park didn't feel like the Busch parks, which were immaculate, and the strange floating bridge across the lake was just weird. Six Flags even added another coaster before they desperately sold it all, minus the animals, to Cedar Fair for $145 million.
Geauga Lake was hastily "de-flagged" in two months, an effort that involved changing the names of many rides and erasing all of the intellectual property that Cedar Fair wasn't licensed to use, especially the Loony Toons and DC Comics brands. In all of the chaos where marketing would be critical to the transition, Cedar Fair moved Cedar Point marketing boss John Hildebrandt from his marketing VP position to general manager at Dorney Park. John would be moved back to run Cedar Point in less than a year.
All things considered, the park opened in surprisingly good condition, though there were stories about neglect that were obvious to visitors. The wood coaster Raging Wolfbobs needed a ton of work, and did not open with the park. The Villain, the wooden CCI coaster installed as part of Six Flags' 2000 package, was brutally rough. The water park was impractically packed into a corner of the park, and Cedar Fair wisely decided to migrate it all to the former SeaWorld side of the lake by the next year.
But despite the rapid and largely successful transition, the place was a bit of a ghost town. In fact, the company announced that tickets would be an astonishing $24.95 for the 2005 season, a striking comparison to Cedar Point which would charge $44.95 (and subsequently drop it by $5 the next year).
In 2005, I decided to start the CoasterBuzz Podcast, and I made it a mission to establish credibility for the show by way of having "big deal" guests. So episode #7 included Dick Kinzel as my guest, recorded on the last operating day at Cedar Point, October 30, in the Red Garter Saloon. It was my first chance to talk to Kinzel in person, and in front of an audience, about the business. The most interesting thing to me was that the company announced in February that Jack Falfas, the general manager at Knott's Berry Farm and long-time manager for Kinzel, was appointed to the newly created chief operating officer position, as an heir apparent to Kinzel. He had announced two years earlier that he would retire at the end of 2007.
I was warned that retirement was the only topic that was off-limits. The idealistic guy with a journalism degree inside felt like there were a hundred red flags raised by this limitation, and in a different context I might have called it off, but I needed this for our silly little radio show without radios.
I didn't throw him any softballs… I asked him about the Geauga Lake acquisition. He demonstrated humility about the difficult start. "I think it's gonna turn out alright for us." It was also interesting that he said that he "underestimated the value of the animals," because I'm not sure that they helped Six Flags that much. SeaWorld definitely didn't seem interested in trying to sustain a business there.
This was the turning point for me as far as my impression of Kinzel as a leader. There was no question that he had slowly but surely built a solid company, but we were starting to see little bits of ego. It started with this interview, when talking about missing earlier opportunities to buy Geauga Lake. He said, "If I had to do it over again, certainly, I'd give Gasper [Lococo] $60 million and would've taken the parks [years earlier]."
Growth is Paramount
In May 2006, Cedar Fair announced that it would acquire Paramount Parks from CBS Corp, which itself had split from media giant Viacom a few months before that. Cedar Fair would spend $1.24 billion for the parks, and send their overall debt load to $2 billion. I actually got wind of the deal the day before they announced it. I don't know what the effort was to contain it internally, but more than one person from outside the company warned me it was coming. I was skeptical, but also not surprised, because CBS expressed interest in dumping the parks early on.
But there it was, and the enthusiast community felt that Kinzel was either crazy or had serious balls to pull of the transaction. Analysts were muted in their enthusiasm for Cedar Fair, speculating that they overpaid, but high-fiving CBS.
By the end of the week, the press was reporting that Kinzel would stay on as CEO for a few more years to see through the transition, ending in January, 2012. It was a transition that represents a pattern I've seen a number of times working in technology. Like The Big Lebowski, "Sometimes there's a man, well, he's the man for his time and place." There are CEO's that are great at growing a company or establishing it early on, and there are others who can scale a business in later seasons. Kinzel was good at growing the company in the small era, proudly proclaiming it as a "big mom-and-pop" operation in any number of interviews. That pride got in the way.
There's a great anecdote that a Paramount Parks manager shared with me, about a meeting between Al Weber, Paramount Parks' last CEO, and Kinzel. Like many third-hand stories, there's no way that I can confirm this happened, but it sure makes for a great story. Kinzel and Weber were walking the midway of one of the Paramount properties, talking shop, when the subject of attendance came up.
"Every morning, I've got a report on my desk with the attendance numbers from the day before," Kinzel beamed.
Weber pulled his Blackberry phone out of his pocket, tapped it a few times, and showed it to Dick. "This is our attendance, today, so far."
This exchange, I believe, is representative of the arrogance that would put the acquisition at risk, and hinder the success of the company for several years.
Cedar Point All The Things
With the acquisition in progress, Cedar Point was opening its big S&S swing ride, Skyhawk. They had also torn down their aging log flume, White Water Landing, replacing it with what appeared to be a field of concrete roller coaster footers. The park was preparing to talk about Maverick, the coaster they were building there, and they brought me in to shoot some video interviews about the ride. One of them included Kinzel, and it was weird that he didn't seem to recall meeting or interviewing with me the year before.
The only thing that I really remember about that interview was that my girlfriend at the time, Catherine, was with me, and she helped get his microphone wired up. She referred to him as "Dick" several times, which made sense because she had never met him, and it's what his name tag said. I apparently did the same, because as we were breaking down equipment after the interview, he stopped and said, "It's Mr. Kinzel," turned, and walked away. Cath shot me a look that included at least an eyeroll, but I suspect her feelings were more negative than that.
Later I would learn from others that Kinzel had a reasonably inflexible view of the world. He insisted to the end that Cedar Fair would be run as a "mom and pop" company, which did not scale well. There was a charity event where the park put me up for free in a room in Cedar Point's "executive apartments," some rooms in the Cedars dorm that they couldn't rent for code reasons. The form indicating this, a copy of which was given to me, had the usual signature lines like "accommodations manager," but I was surprised at the one labeled "RDK," with an initial signature. A billion-dollar company was being micromanaged at that level, approving a comped room in a non-rentable room for a charity event.
It also didn't work well to apply the Cedar Point model to the entire, growing company. An early move was to structure the season pass program at Kings Island to be more like Cedar Point's. It didn't work out well, because while Cedar Point was an hour away from Cleveland, Kings Island had bus lines into Cincinnati. It was a fundamentally different market. There were other cultural challenges, too, including forced 6-day workweeks and no time off in the summer, requiring men to wear ties, etc. Many of those Paramount people who weren't laid-off left on their own.
Showtime At The Apollo
The amusement industry was a mess by 2009. Six Flags was in the midst of bankruptcy, the Busch and SeaWorld parks were sold to private equity firm Blackstone, the one-season Hard Rock Park had reopened as Freestyle Music Park and wasn't paying its bills, and the Great Recession was taking its toll. The acquisition of Paramount Parks wasn't well timed either.
The first three quarters of 2009 were rough for Cedar Fair. Despite more combined operating days, the company shed 1.2 million of the 20 million visits the year before, and EBITDA went down to $296.7 million from $334.6 million. They also announced that they would not pay out the distribution that had made the partnership units (the limited partner version of stock) so attractive to investors. The unit price was already trading below $10, and with this news it bottomed out under $7.
Then an investment firm called Apollo Global Management stepped in to buy the company for $11.50 per unit, in December, 2009. Right after the new year, Q Funding, holding a minority investment in Cedar Fair, became an activist investor, asking unit holders to reject the buyout, which required a two-thirds majority to pass.
In April of 2010, the deal fell apart when it was obvious that the company would not get shareholder approval. Apollo received a $6.5 million check for their troubles.
Jack Won't Be Back
As it turns out, the Apollo drama was just the beginning. On Saturday, June 12, 2010, I received a call from a trusted friend, working elsewhere in the industry, that COO and heir apparent to Kinzel, Jack Falfas, was either fired or left the company. I immediately emailed the company at the investment email address and to a higher-up marketing person, but didn't get a response. Then I got in touch with a middle manager who believed in earnest that Falfas was fired.
When I started CoasterBuzz, I was into posting rumors, but there was so much noise and nonsense around the Internet that I stopped early on. The subtitle "portal to the thrill" was in fact a declaration that I would defer the real news and content to others. But I was sitting on two very credible sources that this happened, and the silence from Cedar Fair was golden, so I published the story, with no detail.
By Monday, Falfas' name was removed from the corporate website. A few days later, the company filed an 8-K with the Securities and Exchange Commission, which said nothing more than Falfas had resigned, and is no longer receiving compensation or benefits. There was no press release. I'm glad that I published the story, but we may never really know what happened. For a hasty departure like that, the lack of information was unusual, to say the least.
The Falfas situation went on for years. In March, 2011, Q Funding insisted that the board resign for "mischaracterizing" Falfas' departure as a resignation. An arbitration panel, then the Sixth District Court of Appeals said in April, 2013, that Falfas should get back pay and be reinstated to his position. The Ohio Supreme Court, in September, 2014, said the arbitration panel didn't have that authority, and sent it back to Erie County Common Pleas, which originally prescribed only the back pay.
What did Disney do to you?
In the summer of 2011, with some six months and change left in Dick Kinze's tenure, Cedar Fair announced that Matt Ouimet would be the next CEO. His resume seemed impossibly great: He had 17 years at the Walt Disney Company, including a year running the cruise line and several years around the time of Disneyland's big 50th anniversary. For the Disney nerd faithful, he "restored" the original park. After that he even ran Starwood Hotels & Resorts, so he even had hotel experience. You had to give credit to Cedar Fair's board and their hired executive search firm, because this guy checked all of the boxes. It didn't seem like he financially or professionally needed Cedar Fair, which all the more made it a big score.
Ouimet took over on January 3, 2012. I moved back to the Cleveland area from Seattle the previous fall, so I was once again a local to Sandusky, Ohio, still the corporate headquarters for Cedar Fair. I was not as well connected because, well, parenthood and living in Seattle, but I figured I'd bother the corporate office about getting an interview in April. Within a week, I had what I expected would be a half-hour or so with the new boss. This wasn't entirely surprising, because he was clearly reaching out to a lot of the communities that Kinzel had somewhat alienated, especially local governments. Even though the enthusiast community was hardly a big contingency, he seemed to be into it.
I spent almost three hours with him.
When I arrived in the corporate office, I sat down in a conference room waiting for him, when he and Stacy Frole, then director of investor relations, came in and he introduced himself.
"Hi, I'm Matt. So tell me about what it is you do."
After explaining what CoasterBuzz was, he stood up and asked, "Can we walk around the park for this?" I had a wireless microphone, so I put that on him, dropped the tripod and lights, then off we went. As is often the case in April, the park was a total mess and it seemed impossible that it would be ready to open in three weeks. Matt, along with Stacy to make sure he didn't say anything he wasn't supposed to, led me around with our hardhats.
The content of the interview focused a lot on the strategic development of the business. He also gave a lot of service to the people in the company, and the importance they played in its success. The anecdotes I was starting to hear from around the chain about this suggested that his words were real, that he was creating an atmosphere that did not include micromanagement, but definitely included accountability. He said that if Disney did anything to him, it made him realize the importance of making sure people were respected, valued and appreciated. This would align well to the values that Bob Iger, Disney's CEO, has recently articulated in his book, The Ride of a Lifetime.
There were some interesting things that we talked about between cuts as well, including some things that maybe weren't the best ways to keep secrets. I had heard a strong rumor about a B&M wing coaster for Cedar Point, at the entrance, around that time, so I flat out asked him if he was excited about it, as if it were fact. "Well, it never hurts to buy the best." In the months leading up to the announcement, I was mostly kept in the loop about it by other leaders, but I think this was largely a function of the trust I had built with the company, not so much that the CEO spilled the beans. Of course, I didn't tell anyone.
After the walk-around, we went back to his office, and talked for almost an hour. I tried to ask him more about himself, but either he was being private or he was genuinely interested in my story. We talked a bit about Give Kids The World, since we both knew people working there. We talked about the rapid growth in software development as a profession, and how hard it was to hire for the field. Every minute I talked to him, I felt like I was smarter.
Where the roller coasters come from
I was really surprised that Matt would answer my email from that point on. It was usually pretty brief, as one would expect from a CEO running a billion-dollar-plus company, but it was always dense in information, knowledge or advice.
Right after the start of the new year, I got a call from Bryan Edwards at Cedar Point. Matt and Rob Decker, the corporate VP of planning and design, were going to visit Clermont Steel Fabricators in Batavia, Ohio, to check out the fabrication of GateKeeper. This is the plant where all B&M roller coasters are born. They wanted to get a bunch of TV people down there to see them touring, and for some reason, me. Again, I think it mostly had to do with being a team player. That's how you score access.
I was able to work my network and get us a really cheap room rate at the Great Wolf Lodge, next door to Kings Island, so I brought my wife Diana and son Simon. While they played in the water park, early that morning I headed out to the steel plant. Just as I had pulled in and parked, quite literally next to a piece of coaster track, the Cedar Fair folks rolled in.
There was a little bit of light rain, so while I'm trying to get my gear together in the trunk of my Prius V, Matt comes over and offers to help carry something in. Given my general disenchantment with Kinzel, you can imagine my astonishment that this guy would even bother giving me the time of day.
The tour was basically the kind of once-in-a-lifetime opportunity that any coaster geek could hope for. One of GateKeeper's "keyholes," the tower structures that the train flies through, over the front gate, was laid out flat on the factory floor, and I got to stand in the middle of it. That was after seeing them cut out steel pieces with a plasma cutter and welding rails to the track ties of an almost-finished section.
After the walk around, for which I was also able to sell some of the video to a production company doing one of those Discovery Channel shows, I had some more interview time with Matt, and Rob Decker for the first of many interviews in the next few years.
Entertaining village people
Doing fundraisers for Give Kids The World Village became a habit even before the Ouimet era began. That relationship began in 2009, so as winter landed for Matt's first full off-season as CEO, we were able to translate an off-season event at Cedar Point into a fundraiser called Winter Chillout. Given his time working in the Orlando area, Matt knew the Village and encouraged the marketing staff to go all-in and make the event huge. My PointBuzz partner Walt Schmidt and I collected the money and issued tickets, and in the process raised more than $13,000, while Cedar Point folks donated their time and provided food, for free. We got our first look at the GateKeeper trains that day. It was a big deal.
Don't stay for the money
If I could summarize my professional man-crush over this guy, it would come down to a candid conversation we had while standing on the platform of GateKeeper on media day. I don't remember how it happened exactly, but I was standing there overlooking the plaza, with Matt, and we were talking about the contract job I was doing, because he asked. I had an interview for a west coast job that wasn't a great fit, but certainly lucrative. I was also contemplating a move to Florida, and in the midst of a contract job I hated, but paid well. I had a lot of options, but none of them made me particularly happy.
"Don't do it for the money. It's all rounding errors compared to your family." The "rounding error" theme came up a lot in our conversations (he reminded me again on the media day for Valravn, while waiting to board). A part of me originally thought that this was a convenient philosophy for someone who was so successful, but if it ever limited him in some way, it sure didn't show, given his outcomes. That conversation made it obvious that I had to move to Orlando, regardless of career options, and that's what I did.
I saw him a few more times before we moved, and he had some good advice about where to live around Orlando. I wouldn't see him again until he spoke at the GM and owner's breakfast at the IAAPA Expo in November. I had an exhibitor badge via Give Kids The World, where I actively volunteered, so I was there quite early before the show floor opened and ran into him on the outer concourse. I thanked him for the advice and his generous time.
In his keynote at the breakfast, he told a story about his start at Disneyland. Following a tour with his leadership team, he suggested that they move a churro cart in front of the iconic castle, believing it reduced the quality of the thousands of photos taken there every day. Soon after, a line manager from foods visited his office, and she suggested that they not move the cart, because in other locations it made far less money. When he asked how much it made, she indicated it was something close to a million dollars a year, or something like that. The cart stayed put.
His point is that you have to listen to others, that you can defer decisions while holding people accountable. As a leader, you have to synthesize inputs from all directions, from your line managers, your customers, the markets you serve, and make informed decisions.
Ouimet stepped down from the CEO gig in October, 2017, but was designated the executive chairman, and continues to serve on the board as of the time of this writing.
Professional blueprints
In my post-broadcast professional life, two decades-in now, I've encountered a wide variety of high-level leadership. Early in my career, I wandered among those ranks just because I was that "Internet guy." In small companies, I've seen what entrepreneurs can do, and in large companies I've seen how executives set the tone. I've admired, and been deeply disappointed in, a great many business leaders. My intention with getting to know these folks has always been consistent though. Whatever technical skill I have, I've always wanted to compliment it with leadership skill, which does not come naturally to me.
I admired Dick Kinzel for what was created under his watch, and his micromanagement style seemed almost necessary to the success of that creation. But if there's any consistent lesson in leadership that I've observed, it's that strong self-awareness is the lasting mark of a leader's success. While I don't agree with his style, Kinzel's methods worked to a certain scale. In technology, we see this all of the time. Founding leaders are good at validating a business model and product-market fit, but it doesn't mean that they're good at growing a company. You can apply this to almost any line of work. A good sales person is not necessarily a good sales manager. A strong carpenter isn't a natural at architecture, or vice versa. Success comes from knowing your limitations, and deferring the things you can't do to people who can.
I once congratulated Matt Ouimet on what was looking like a fairly rapid turnaround of Cedar Fair. His response was that much of what the company needed was already there. I don't think that he intended to be critical of Kinzel's micromanagement, but it made sense. Sure, he had his own round of hiring and firing, and I'm sure there were some mistakes there, but he set a tone of empowerment and accountability. I admire that. When he was ready to let go, he handed the reins over to Richard Zimmerman. The transformation was complete.
It hardly seems surprising that I admire a guy who treated me, a guy with a dumb website, so well. But professional respect doesn't come easy to me. I've seen up close a CEO that made decisions that would de-list a public company. I've seen an epic dot-com failure that put me out of work at the hands of poor decision making. I've worked for leaders that I thought were self-aware, only to find their blindspots were fatal flaws. Heck, I worked at Microsoft when Steve Ballmer was still in charge, and almost 100,000 other people couldn't correct some of his missteps. Ouimet had a successful go in short order, and that was neat to see.